WHOLESALE PRICING:
HP PageWide XL5100 Printer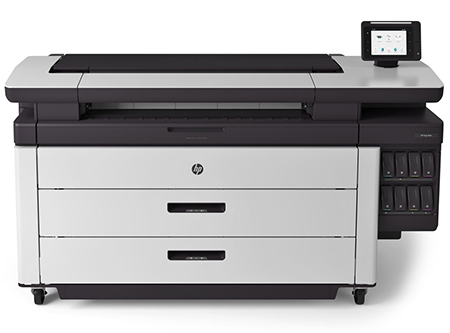 HP PageWide XL5100 Printer:
The fastest large-format monochrome and color printer ever
Increase your advantage with this powerful, efficient printer or multifunction device. Speed up production - print up to 20 D/A1 pages.min with accuracy, durability, and vibrant colors. And help keep costs low with efficient and secure workflows. Dynamic security: cartridges with non-HP chips might not work today or in the future.
Print Speed: Up to 20 D/A1 pages/min
Media: Up to 4 rolls Ink
Cartridges: 400 ml inks; dual HP ink supplies with auto-switch
Optional Accessories: Optional folder, high-capacity stacker, and top stacker
HP PageWide XL5100 Printer FEATURES
IMMEDIATE - Get instant monochrome and color prints
Up to 20 D/A1 pages/minute print speed, quick 28-second first page out
Deliver mixed monochrome and color sets in 50% of the time with a consolidated workflow
Streamlined PDF workflow with HP SmartStream software, HP Click for easy batch printing
Print unattended - production preflight/finishing solutions, up to 4 rolls, dual 400-ml inks with auto-switch
EXPAND - Set the accurate, durable, color standard
Set a new technical document standard with crisp lines, 2-point text, smooth grayscales, and vibrant color
Help generate new business - reveal the value of color; print GIS maps, point-of-sale posters, and more
HP PageWide XL pigment inks - ISO certified for long-term storage, light/water resistance
Print on HP and third-party media up to 40in (101.6cm) - covering ISO/US technical and offset standards
SAVE - Cut total production costs up to 30%
Print monochrome and color technical documents at the same or lower cost than comparable LED printers
Print/scan/copy in monochrome and color with one single device - in a fully HP branded, supported solution
Gain broad control over your printing costs and turn them to your advantage with HP SmartTracker software
Help keep data safe - self-encrypting HDD with AES-256, Secure Disk Erase, and IPSec
Why buy or lease from Topaz?
We are a Top U.S. Designjet Reseller.
We buy a huge number of HP Designjet HP PageWide XL5100 Printer. As a top national HP Designjet reseller our volume discounts allows us to sell HP Technical Designjet printers for less. How much can you save when buying from Topaz? We are prohibited from advertising OUR ULTRA-LOW PRICING. The only way we can quote pricing is if requested. Take a minute to request a
Quick Quote
.

OUR PRICES ARE TOO LOW TO ADVERTISE,
but we can email our lowest price to you withen 24 hours if you request it.
OVER THE LAST 40 YEARS
we have taken great pride in our reputation for offering outstanding service and deep discounted equipment and supply pricing.
We are proud of our loyal base of regular customers -
many have relied on Topaz for equipment, service and supplies for over five years.
Ultra-low prices, exceptional service
- your absolute best value in Wide Format equipment and supplies.

Click here to read Topaz Testimonials.
We are New England's only full service HP Platinum Partner.
We sell, lease, service all current HP Designjet models and warehouse one of the largest inventories of Wide Format ink and paper supplies.
INKS / TONERS:
MEDIA / PAPERS:

Shop For Supplies On-line:

Topaz Engineering Supply, Inc.
35 Pond Park Road, Hingham, MA.
800-255-8012
|
sales@topazeng.com

Partner First Platinum Imaging Printing Partner
Specializations
Partner First DesignJet Specialist
Partner First Technical Production Specialist
Partner First Services Specialist Sales