Genuine HP PageWide Poster Media
Help your customers produce vibrant graphic messages for a wide range of indoor applications with versatile HP PageWide Poster media. From event signage to retail displays and wall murals, HP Self-adhesive Materials produce brilliant color images that get noticed.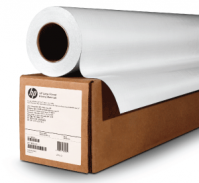 HP 6.1 mil Production Satin Poster Paper, 3" cores
154 microns (6.1 mil) | 160 gsm
Produce precise lines with sharp, fine detail. See high-impact graphics with an extended range of colors. HP Production Satin Poster Paper, 3-in Core with ColorPRO Technology is designed for HP PageWide XL printers to deliver professional quality and striking results optimized for high-production environments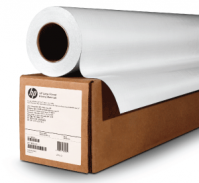 HP 6.6 mil Production Matte Poster Paper, 3" cores
167 microns (6.6 mil) | 160 gsm
Produce high-quality POS posters and GIS maps with this production poster paper that provides excellent image quality. Avoid smudges and smears, prints dry quickly and stay intact with handling. See up to 6 months in-window display permanence, unlaminated.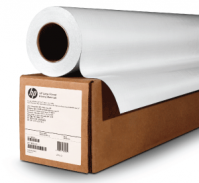 HP 7.3 mil Gloss Poster Paper, 3" cores
185 microns (7.3 mil) | 190 gsm
HP Gloss Poster Paper, 3-in Core for HP PageWide Technology provides vibrant color and excellent image quality. Produce point-of-sale (POS) posters at breakthrough speeds.
IMPORTANT:
We only ship in per roll quantities.
The "MIN QTY" shown represents the number of rolls per carton.
Example: If you want to order 4 rolls then select Qty 4. Please only order rolls in multiples of the minimum quantity. Example: If "MIN QTY" says 4 you may order Quantities 4, 8, 12, 16, etc.
Important: A recent change to UPS and FedEx shipping policies has affected the shipping price of packages that weigh 50lbs or more. If your order contains packages that weigh 50lbs or more you may be subject to additional shipping charges once your order is reviewed prior to shipping.
*Product Descriptions with an asterisk have a shipping weight of 50 lbs or more.
Any questions please call 781-749-8687 or email sales@topazeng.com

Topaz Engineering Supply, Inc.
35 Pond Park Road, Hingham, MA.
800-255-8012
|
sales@topazeng.com

Partner First Platinum Imaging Printing Partner
Specializations
Partner First DesignJet Specialist
Partner First Technical Production Specialist
Partner First Services Specialist Sales