Genuine HP Fine Art Printing Materials
A wide range of HP Fine Art Printing Materials. Huge inventory of the most popular sizes ready to ship. Plotter papers for Ricoh, OCE, KIP models at great prices.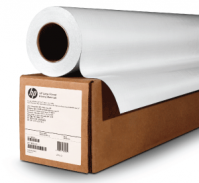 HP 12.1 milMatte Litho-realistic Paper, 3" cores
Deliver high-quality, durable prints on this cost-effective alternative to high-end, smooth fine art papers. HP Matte Litho-realistic Paper, with a color-stable coating, has the look and feel of heavy, offset paper. Prints are designed to last on this color-stable, lignin-free, buffered paper. Built for high productivity, see excellent image quality in productive modes, and enjoy instant handling and flexible processing. Produce high-quality poster art and reproductions. HP Matte Litho-realistic Paper, with a color-stable coating, has the look and feel of heavy, offset paper.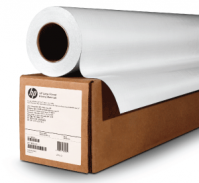 HP 15.6 mil Artist Matte Canvas
HP Artist Matte Canvas is a mid-grade canvas that delivers vivid, true colors and sharp detail on the bright white finish. The stretchable canvas has a slightly textured, matte surface for true artistic quality. Long-lasting prints provide excellent indoor display permanence as well as water resistance. Easy-to-handle, quick-dry prints help speed finishing time.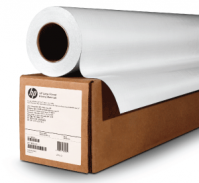 HP 18.1 mil Professional Matte Canvas
HP Professional Matte Canvas now offers a more consistent base fabric. Museum-quality, matte-finish prints achieve vivid, accurate color reproduction with a bright white surface and improved color gamut ideal for fine art and photographs. Long-lasting, water-resistant prints preserve your work. You can stretch, fold, and mount this flexible material without cracking the image. And you can choose from a wide variety of compatible laminates.
IMPORTANT:
We only ship in per roll quantities.
The "MIN QTY" shown represents the number of rolls per carton.
Example: If you want to order 4 rolls then select Qty 4. Please only order rolls in multiples of the minimum quantity. Example: If "MIN QTY" says 4 you may order Quantities 4, 8, 12, 16, etc.
Important: A recent change to UPS and FedEx shipping policies has affected the shipping price of packages that weigh 50lbs or more. If your order contains packages that weigh 50lbs or more you may be subject to additional shipping charges once your order is reviewed prior to shipping.
*Product Descriptions with an asterisk have a shipping weight of 50 lbs or more.
Any questions please call 781-749-8687 or email sales@topazeng.com

Topaz Engineering Supply, Inc.
35 Pond Park Road, Hingham, MA.
800-255-8012
|
sales@topazeng.com

Partner First Platinum Imaging Printing Partner
Specializations
Partner First DesignJet Specialist
Partner First Technical Production Specialist
Partner First Services Specialist Sales